ALTERNATORS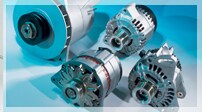 | | | |
| --- | --- | --- |
| | | Every high output alternator is assembled using only Heavy Duty components. We always put quality before quantity by building each alternator to order, this guarantees it will fit your vehicle just as the stock alternator did without the need for shims or special brackets. Our High output alternator kits are a great way to do a quality rebuild and get high amperage output from your stock alternator. Weather your on a budget or enjoy doing the job yourself, in most applications the installation of a high output alternator kit can be completed in less than an hour. These kits contain the same heavy duty parts as in our high output alternators. |
Our Heavy duty rebuild kits are another great way to save when alternator service is required. You can do a complete rebuild for less than half the price of a store bought rebuilt alternator and get far better quality parts. All our heavy duty kits contain the same heavy duty parts as our high output kits.

Starter repair kits for most makes and models, from basic service to a complete overhaul. our kits will make your starter like new. If you find your starter is to far gone for rebuilding, we can supply you with a 100% new replacement for about the same price as an auto parts re-manufactured. If you can't find a repair kit for your starter, just give us a call.

Outboard starter repair kits for Force - Mariner - Mercury - Evinrude & Johnson. These kits contain everything needed for a complete rebuild that will make your starter like new for much less. These kits come with complete end frames that include brush holder, brushes, brush springs and bushing, new starter drive and end drive bushing.